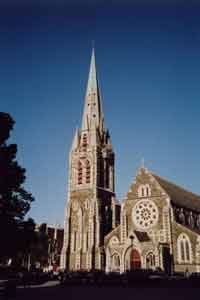 Christchurch Cathedral
Today I explored Christchurch. Last night I had a green curry in an asian food hall. Then watched TV for a little while before going to bed. It took a while to get to sleep but was OK after that.
I woke up late ~ 9:20, went to the main square, and into the visitors centre. It was quite useless, since it was packed with people, and you had to queue just to buy a pamphlet.
I went outside and went for a walk through the cathederal. It was very pretty, but it was the first church I've seen with a gift shop attached. – It's mostly a tourist attraction – the view from the top of the tower was pretty good. It was a very narrow circular staircase to the top.
After this I had a quick look at the bus stop to see if I could see how to get to the gondola. I couldn't see anything about it, so I walked down to the botanic garden, and wandered around there for a while – it was rather nice. It is bordered by the Avon. After walking back to the visitors centre, I saw a brochure about a bus service for three of the attractions in Christchurch, including the gondola and the Antarctic Experience, which I had read was good. Due to the timetable, I had to go to the Antarctic Experience first. It was right near the airport, and took about 20 minutes to get there. Unfortunately it wasn't really worth the $18 entry – it was a museum like attachment to the buildings for the Antarctic expeditions. It consisted mainly of audio visual stuff and seemed to be aimed at school kids who didn't know much about Antarctica. The wind chill simulator in their "snow room" was pretty good though – It was -5?C when still, and quickly got freezing cold when the fan sped up.
I took the bus then to the gondola. It went straight up the side of a 500m mountain. There was a museum type display at the top which was pretty average ( I don't think I enjoy these!), but the views were great. Since it was a cloudless day, you could seethe shadow peaks of the Alps through the haze. The outline of Christchurch and the Banks peninsula stretched away on either side. The top station of the gondola sits on the enormous crater rim of an ancient extinct volcano. I went for a short walk along the rim, which was good to get away from the humming of the gondola cables. It was quite pleasant there.
Back in the city, I got cash from an ATM which decided to give me my $600 in $20 notes. I've never seen a stack of cash that thick before! I wandered south out of the city centre, looking to see if I could find the train station. Instead I found a supermarket, so I bought some noodles and pasta sauce for dinner and some waffles for breakfast. It's funny – they call shopping trolleys "trundlers". I think I've got too much stuff – I might need to get rid of something, but I can't see yet if there is anything I don't need. I think it migh tbe better if I had around 1.5 to 2 times the amount of time I have, maybe even more, because you don't find out about stuff you should do until you've been there a while ( or talked to many others who have been) – the guidebook isn't always going to be right. The coins here are strange – they clink together with a much more tinny 'cheap' sound. Their $1 and $2 coins probably make more sense since the larger coin has the larger value (both are gold) but it always confuses me, since the Aussie $2 coin is so small. I think the Kiwi experience pass should be good since you have time whilst on the bus to talk to other travellers.