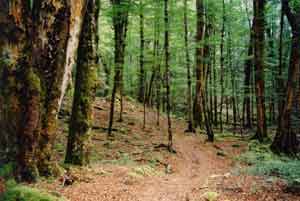 Open Beech Rainforest on the Kepler Track
I was woken at about 3:00 in the morning – I could hear a plastic bag rustling. At first I thought that someone must have come in from the track after I'd gone to bed. After a while I wasn't sure, so I turned on my headlamp, because it now sounded like it was coming from my bag. I shone my light at the bag – it was one of my food bags – suddenly a grey blur shot out of the bag and under the beds. A mouse! After lying there a bit longer, I figured I'd better hang my food up or it would just happen again. It took quite a while to get back to sleep since I was wondering whether my breakfast was OK and whether the mouse would get some sweets zipped inside my pack in a ziplock bag.
Fortunately when I woke at 7:00, there was no damage that I could see – either it had got into the rubbish bag (likely), or hadn't yet had time to get anything. After packing and eating breakfast, I set off at 8:20. I soon discovered my feet and legs were still a bit sore from yesterday. The track crossed numerous small streams in the forest and an open wetland area before reaching a bog/wetland with a viewing platform out near the edge of a small lake which was formed by a huge remnant chunk of ice which lodged there long after the ancient glaciers retreated. The whole area was open since no trees could grow in such wet soil. The views were nice. While I was there, a flock of geese flew in and landed on the lake. The ground of the bog was covered in moss, rushes, very low bushes and two types of sundew. No streams fed or drained the area, hence the reason the bog existed. While I was at the wetland, I saw the hut warden – she was walking out to Rainbow Reach to get the bus.
After crossing may small streams, the track ran next to the Waiau River. It is a very large river (the largest I've seen in NZ) flowing between Lake Te-Anau and Lake Manapouri. The Rainbow Reach swing bridge was by far the largest swing bridge I'd seen. It would be at least 50m long and could take 10 people at a time.
It had taken the full estimated time of 1 ½ hours to reach the bridge, so I figured it might take the full 3 ½ hours to reach the end of the track ( the Lake Te-Anau control gates). Travelling mostly near the river, the track went up and down a fair bit – crossing side streams. Mostly beech forest, there were some sections which were cleared or were tea-tree regrowth areas. After only another 1 hour 50 minutes I suddenly came out to the control gates. The track was over – My last tramp in NZ.
The wind blowing across the lake was at least 20 knots ( there had been no wind on the track) and it was quite cold. The walk back around the lake gave some nice views, but was a bit chilly. I got to the DOC office after about 4 ¼ hours.
Walking into town to get some lunch, I saw a couple I'd done the Milford Track with, and talked for a while – They'd just finished the Routeburn guided walk and said the weather hadn't been great. I got a hamburger and chips for lunch and then got my pack out of storage, and started repacking it on the grassy lake shore. By the time I'd repacked everything, it was spitting rain. The rain got harder but I still had about two hours to wait for the bus to Queenstown. I discovered that Te-Anau doesn't really have any covered areas to sit except for in shops like café's. I sat under a tree where it was dry for a while, then went to the café where the bus would come. There were heaps of tourists milling around there.
It was still raining when the bus came, and it rained all the way to Queenstown. We watched "Oceans 11" on the bus. After I had set up my bed at the hostel (Southern laughter – nice hostel), and had a much needed shower, I went outside and it had stopped raining. I had decided I wanted to do some of the "extreme" stuff that Queenstown is famous for. I wanted to do things I couldn't do at home, so I booked in to do the Shotover Jet boat, since it goes through the Shotover River canyons, and the A J Hackett bungy from the Karwarau River suspension bridge, because it is world famous for being the very first bungy site. I went again to Sombreros Mexican restaurant, and it was very nice, although I tried a Margarita and didn't like it much. I think I just don't like Tequilla.