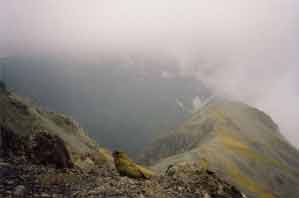 A Kea and Crow Glacier in Cloud at the summit of Avalanche Peak
I've been here now for a week but it feels much longer. The 'Mountain House' hostel is so good for tramping from, and it isn't crowded with heaps of other backpackers who don't like tramping. I think I probably won't find another place like it.
Today I decided to climb Avalanche Peak which is 1833m (1100m higher than Arthurs Pass village). The weather was OK when I decided, but by the time I left it had started looking bad toward the west and north, and it started raining very lightly.
The route guide suggested 3 hours was required for the climb. Climbing fast, I did it in under 2. The views going up were good despite the misting rain, once above the bushline. Nearing the summit, it was shrouded in cloud – walking along a knife edge ridge, it felt like slipping off, you would just be swallowed by the fog.
I made the summit – there were two people there already who left shortly. As I sat down, two things happened – the clouds started to break, and two Keas landed right next to me. It was clear the Keas expected food – they got quite interested when I reached into my bag. I was able to touch their beaks when I held out my finger and they tried to grab it. They walked around on the ground near me for a long time – always watching, and every so often would try to eat my boots or bag (while I was wearing them!). I got a souvenir of them when one of them scratched itself and lost a small feather.
The clouds broke enough to see Crow glacier, mount Rolleston, the Crow valley, the Arthurs Pass valley and surrounds. It was quite spectacular, however the rain continued the whole time and the wind combined to make it freezing cold – I had gloves, raincoat and rainpants and fleece on and if I took a glove off my hand went somewhat numb.
Climbing back down, I took one hour, 25 minutes of a suggested 2˝ hours. Total walk time 3:20 of the 6-8 hours suggested! The track was a highway compared to the Harman Pass hike. II spent the afternoon trying to organise onward travel, and packing for it. I've decided to go to Mount Cook now since the Mueller Hut is still open till the 17th February and I would like to go there if I can. I think I will miss Jennifer – I doubt I will meet anyone quit like her on this trip again.