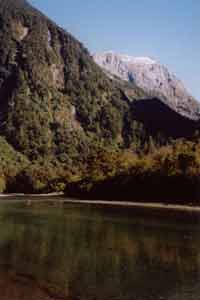 The Arthur River Flows Past Huge Mountains
I was woken again at 6:15. During breakfast, there was a Kea demonstrating it's destructive skills on a pair of old boots nailed to a post next to the windows – they were shredded. After making lunch, eating breakfast and packing, I applied a good layer of bug repellent, since today would be the day for sandflys. At 21km it was also a long day with a deadline for the boat – I set off late at 8:00.
Walking fast, I found I was overtaking people all day. The track first descended then ran flat along the Arthur River through lush rainforest to the Boatshed where we had morning tea. This was also the top end of Lake Ada which we would follow the rest of the day. Crossing the river, I could see trout and big eels cruising in the unbelievably clear green water. The track soon crossed the Mackay River to the Mackay Falls, and Bell rock. The falls were pretty, but cold. Bell rock was an enormous hollowed out boulder you could climb inside.
The track went in and out of rainforest, and open scrub, as it followed the lake side. At one point, it ascended a bluff on a path blasted in the 1880s. It felt like a very long walk to Giant Gate Falls, where we were having lunch – We sat on the rocks in front of the splash pool, it was quite pretty.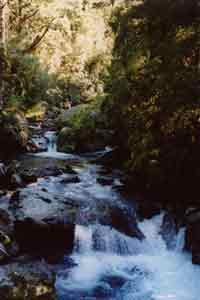 Mackay Creek Flows Through Forest
It had been suggested that you could swim here, and I was thinking about doing it. As I had lunch, James (a guide) and a couple of others jumped in. Their reactions told me it was really really cold. Helen (another guide) arrived, and immediately jumped in. I decided to give it a go. Just putting my feet in was very cold. I dived in, and immediately swam across and jumped out fast. It was intensely cold – my skin went immediately numb and tingled. I wanted to dry off fast, so I dived back in and jumped out where I had started, and used a shirt to dry myself off. It certainly makes you feel alive! I was so keen to get walking to warm up, that I almost forgot a photo of the falls.
The last 3 ˝ miles went quite fast, since I'd gone swimming, and had lots of energy. The track went through the forest over quite a few rivers. At one point there was a view of the bottom of Lake Ada – it was wide and murky with enormous cliffs on the far bank.
Soon I rounded a corner and there was the Sandfly Point shelter. I kept walking past the shelter 50m to the official track end sign, then went back and had a drink and scone in the shelter, away from the sandflys.
The ferry came and soon we all got on board for the short trip to Milford Sound Village. It was very pretty – near vertical sided peaks towering around us, rising directly from the water. On the way in, we saw Bowen Falls next to the wharves.
Milford Sound Village is much smaller than I imagined – just a cruise terminal, a Lodge (where we were staying) and a café/pub. I decided to walk around the foreshore the few hundred metres to the Lodge. I wish I hadn't since I tripped on a large hump on the road whilst untying my video camera from my still camera, and dropped both as I fell. Fortunately the expensive video camera was OK, but the still camera broke – the lens shield popped off the front and broke the sensor for the shield, so it always thought the shield was closed. In the lodge room, I managed to jam the sensor so that it thought the shield was open. The camera worked, but would not turn off, or fit into the soft case. I also didn't know if light had leaked in or if everything else was OK.
I had a soak in the ensuite bath – the room was a twin – I was sharing with Ray Hood. After getting changed I went to the lounge / bar which has amazing views of Mitre Peak and the surrounding mountains. The buffet dinner was very nice – before it I went for a quick walk up to a viewpoint on a hill behind the lodge, and we also had certificate/photo presentations. Ray (Hood) was at my table for dinner, and because he is an entertainer on a cruise ship, he seems to need to either be alone, or be the centre of attention – performing, telling jokes stories etc – rather strange.
After dinner, most of the Aussies, the guides and a few others went next door to the pub. We played pool, drank, played darts and danced a little. At midnight however, the pub shut, so someone decided to buy a bottle of port and a case of beer. We went back to a suite and talked and drank – by this time there were about 10 of us. We were being a bit noisy so we decided to go for a wander outside, where we sat on the road looking at the stars. The bar man nearly over ran us at 2:00 as he went home, and it was this point that I went off to bed. It was a fun night, I was partially drunk.