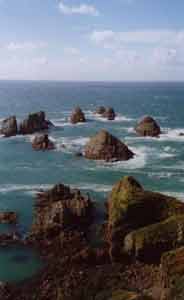 Nugget Point
Got up and got ready early yet again – The reception at the Dunedin Central Backpackers didn't open till 8:30, so I couldn't get my $10 key deposit back – Crap hostel.
The bus picked us up and we drove south west towards the Catlins. After a food and loo stop, we went to Nugget Point and walked out along the headland to the lighthouse. The wind was very strong – not as strong as the Rees Saddle though. There were good 300? coastal views m and we saw some baby seals on the rocks far below.
We drove on to Surat Bay where we walked out along the sand and saw two sea lions lazing on the beach – they were completely unconcerned about us being there. Moving on, we stopped at a waterfall which was unimpressive after the Rees-Dart, – it was only about 10m high and not vertical.
We then went to Curio Bay where there were Hectors Dolphins swimming beyond the shore break. We could only see their dorsal fins (black) popping out every so often. The driver waded in a little way but everyone else looked from the beach – it was freezing out of the water, let alone in it. Apparently you can swim with the dolphins if you're keen – I wasn't (too cold & no wetsuit!).
We pulled into Invercargill well ahead of time due to the cold weather. There had been fresh snow just outside Dunedin in the morning, and we passed through a rain and hail storm before reaching the Catlins. I was dropped off at the hostel – the "Southern Comfort Backpackers" – What a nice place! It had a friendly warm homely feel and was well maintained. I wouldn't mind staying here again! I explored Invercargill for a while – it has the feel of a rural city – very few high-rise buildings – some old historic buildings from its heyday. There didn't seem to be many parks – just one big near the hostel – about 10 minutes walk from the centre of town. I decided to have a self cook dinner since none of the restaurants grabbed me. Satay noodles and an orange. I read in a magazine about Ball Pass in Mount Cook area, and discovered what "Glissade" means – sliding down a snow slope on your feet or backside. The first people to cross Ball Pass descended 4000 feet in 30 minutes sliding down a glacier!