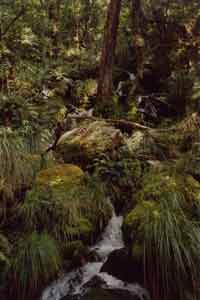 A Beautiful Cascade on the Rees-Dart Track
I woke up early, struck my camp at the motor camp and got ready, I didn't have time to find the YHA to store my spare bag before the bus came at 7:35. The bus took us along the shore of the lake to Glenorchy. The views across the lake were excellent, and between the heads of the Rees and Dart valleys, you could see the massive snowcapped peak of Mount Earnslaw. We stopped at Glenorchy for an hour, where I stored my bag, bought maps, track descriptions and a pack cover, filled out intentions sheets and looked at the weather forecast (it looked bad for tomorrow). The bus then took us up the Rees valley on a dirt track to the trail head.
I started walking about 10:00 through grassy flats (farms). The Rees was a fairly large river here, not quite as big as the Waimakariri though. There were some very muddy areas, and my boots got a bit wet and my socks dirty. I only went in up to just below my knees – some others said they went halfway up their thighs. – Yuk! The views of Mount Earnslaw were great.
The track entered the national park and was surrounded by temperate rainforest – big beech trees, with moss and ferns covering everything else. The track was following the Rees toward it's head, hence was rising with the river. Eventually the track popped out above the tree line at about 900m and soon came to the Shelter Rock Hut. The views outside the hut were pretty amazing – towering snow capped peaks formed an arc around the hut with another mountain behind it. There was about 8 people in the hut. I arrived first at 3:00. I was thinking of continuing on over the saddle for a double day, but it would have been pretty late when I arrived. In hindsight I should have done this as I would have had good weather over the tops.