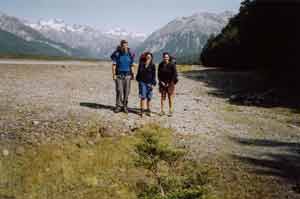 The start of the Harman Pass Tramp
In the morning I got up early after a poor nights sleep and packed my hiking stuff in my pack, and the other stuff in my duffel bag.
We (Me, Roni & Jennifer) went down to the Department of Conservation office and filled out intentions forms and I bought hut tickets. We then hitched a lift down to Klondike Corner where one of the checkpoints for the race was – I think it was the overnight one for 2 day competitors. There were hundreds of cars, bikes and kayaks there. (This was actually the first time I'd hitched & it was amazing how fast we got a ride, even with three of us with big packs - only about 5 minute wait)
We started walking along the Waimakariri which was a very wide area of river stones with several channels of the river crisscrossing it. Almost straight away I had to change into my sandals to cross the river, and I kept them on all day, since we crossed and recrossed the river between 10 and 20 times. Jennifer hikes in sandals all the time due to an old injury on the Appalachian trail, so I figured it couldn't bee too bad – it was fine. ( The water however was icy - my feet turned red on even the quick crossings, and went numb on the longer ones)
The entire day was spent hopping over riverstones – tiring slow going, but the views of the surrounding mountains were awesome – you could see many 'glaciers' (snowfields) – it was great.
Finally after about 5˝ hours, we reached Carrington hut (situated in the bush at the junction of the White?? and Waimakariri Rivers) – It was huge – 40 beds, 7 rooms. ( We were thinking about going further, and camping the night on the top of Harman Pass, as suggested by Bob from the Mountain House Hostel, but we decided against it) I went to bed at 10:00 when everyone else did – just after the light disappears.