Coast Walk - Royal National Park - Sydney, Australia
14-15 Feb 2003
Evan Hunter
Adam Hunter
Jennifer Thompson
Fiona Campbell
Kylie Huard
Back Sydney Index
Coast Walk, Bundeena to Otford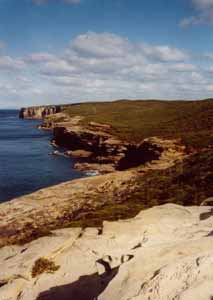 Coastal Cliffs near Marley Head
This is a rewarding overnight walk, only an hour's journey from sydney, and is easily accessable with public transport.
Day 1
We arranged to meet at Sydney's Central Railway Station, where we caught a train to Cronulla. After a little breakfast at a cafe, we caught the ferry to Bundeena.
You can either walk around the headland of Port Hacking Point, or go directly south. We chose to go around the point. This adds a couple of kilometres to the trip. The first part of the walk travels along scenic coastal cliff-tops in low heath bush. After a while, Marley and Little Marley Beaches are reached. Little Marley is better suited for swimming, but since it was winter, we didn't swim.
Shortly after Little Marley, the track heads a little way inland around a lagoon and arives at Wattamolla. Here there is a kiosk and picnic area.
After leaving Wattamolla, a few creek gullies are traversed as the track continues south along the coastline. Soon Garie Beach comes into view. Because we hiked in mid-winter, by the time we reached Garie Beach, it was getting dark. Fortunately there was a full moon. Garie Beach is patrolled by surf-lifesavers, and is a popular fishing beach. There are several houses here.
The track climbs up over the headland at the southern end of Garie beach, and immediately descends into North Era Beach
There is a large grassy camping area at North Era, and it is the only place in the Royal National Park where bush camping is permitted. The camping area has two pit toilets You will probably see deer here - we saw several at close range. We found that the campsite was fairly cold, since there was a breeze, and the winter night was clear.
Day 2
It was a long day's walk to North Era, the walk out to Otford is much shorter however. Heading south, the track ascends the headland between North Era and South Era. Some houses are passed going through a small community at South Era Beach, then the track heads inland a little, around a large headland.
Continuing back next to the coastal cliffs, the track goes past, and above Burning Palms beach, where there is another few houses. After another small section of castal cliffs, the Palm Jungle is reached, where there is are hundreds of palm trees forming a tangled jungle.
At this point the track starts heading inland, and ascending, toward the escarpment. Near the top of the hill is Werrong Lookout, which overlooks Werrong beach, with the coast stretching away to Wollongong in the distance.
The bushland on the escarpment is quite pretty, and is the only real eucalypt forest on the track. Soon the track comes to Otford lookout which has good sea views but is on a road, hence is popular. from here, Otford train station is a kilometre or so inland, down off the escarpment, where there are regular train services to Sydney.
Coast Walk Photo Gallery
Port Hacking
Jun 14 2003

View from Port Hacking Point
Jun 14 2003

Coastal Cliffs near Marley Head
Jun 14 2003

Marley Head and Little Marley
Jun 14 2003

Curracurang on the Coast Walk
Jun 14 2003

Ocean view near Curracurrang
Jun 14 2003

Coastal Heath in the Royal National Park
Jun 14 2003

Eagle Rock on the Coast Walk
Jun 14 2003

Hikers on the Coast Walk
Jun 14 2003

Waterfall at Curracurrong, Royal National Park
Jun 14 2003

Hikers near Curracurrong
Jun 14 2003

Coast Walk Heath View
Jun 14 2003

Sunset on the Coast Walk
Jun 14 2003

Adam, Kylie & Fiona on the Coast Walk
Jun 14 2003

Rising Full Moon at Garie Beach
Jun 14 2003

Full Moon over the Ocean at Garie Beach
Jun 14 2003

North Era Beach Camp
Jun 15 2003

Rough Surf at North Era Beach
Jun 15 2003

Rough Surf at North Era Beach
Jun 15 2003

Deer at North Era Camp
Jun 15 2003

Inquisitive Deer at North Era Campsite
Jun 15 2003

Royal National Park Coastline
Jun 15 2003

Hiking Group at Werrong Lookout
Jun 15 2003

Coast Walk in Beautiful Forest Area
Jun 15 2003

Coastal Cliffline near Otford
Jun 15 2003

www.ozhiker.com